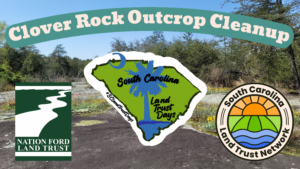 Help us clean up a unique and beautiful natural feature! One of Nation Ford Land Trust's conservation easements, Clover Rock Outcrop, is in need of a cleanup and we are seeking volunteers to help out! The site is not open to the public, so this is your opportunity to see a beautiful place in York County and help keep it beautiful.
The cleanup will begin at 9:00 AM and will last until noon on Saturday, October 8th. Dr. Steve Fields, Curator of Natural History with the Culture & Heritage Museums, will give a brief presentation about the interesting geology and natural history of this property before the cleanup. NFLT staff and board members will accompany volunteers as we clean up different areas of the property. We will take care of hauling away the trash. We just need your help to collect it, bag it, and get it into the truck! We will have clean-up supplies, hand sanitizer, water, and snacks but participants are welcome to bring their own.
Please read our Logistics and Safety Guidelines below carefully. If you have any questions, contact us at our main office at (803)-547-8140.
Logistics:
Parking is available in the lot of the Haven Ministries, Church of God of Prophecy church at 106 Hill Top Lane, Clover, SC, 29710.
Join us for the entire time or just for an hour. All help is appreciated!
No bathrooms are available on site.
Safety Guidelines:
At the beginning of the cleanup, volunteers will be assigned a zone leader. Please stay with your zone leader for proper instructions and as your guide while at the property.
Closed-toed shoes are required and gloves (especially thick ones) are strongly recommended.
As with any litter clean-up, please exercise caution when handling trash.
There is little to no shade on site, so please bring sun protection if you need it.
Water will be provided, but please bring your own water if you can.