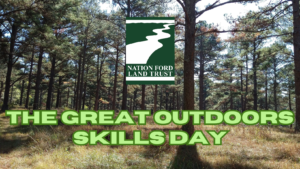 **POSTPONED**
November 4th
10:00AM-12:00PM
3271 Neely Store Rd, Rock Hill, SC 29730
More and more kids are growing up with little outdoor experience joining a whole generation of adults who also haven't had much opportunity to learn basic outdoor skills. Does this describe you or your children? Love the outdoors but would enjoy being out there more if you were confidant in your skills? Come to Nation Ford Land Trust's first Great Outdoors Skills Day! Join Outdoor Experts, Ornithologist (AKA Bird Guy) Dr. Bill Rogers, Hope Matthews and James Smith with MyOutdoorJoy for three round-robin skills sessions, "How to Bird", "How to Navigate by (real not GPS) Compass", and "How to Safely Start a Campfire".
Additional Program Information:
Please purchase tickets before arriving ($10 Per Adult, $1 Per Child)
This is an outdoor program, so check the hourly forecast and dress for the weather
Close-toed shoes are required
This event is appropriate for adults and children ages 7 and above. Children younger than 7 will not be permitted to take part in the activities. Children ages 7-15 must be supervised by a registered adult (no drop offs)
There are limited bathroom facilities on site, so plan accordingly
Bring water and a snack if you will need it during the program
Get your tickets HERE!


Preserving Greenspace
for all Generations