(Click for Map)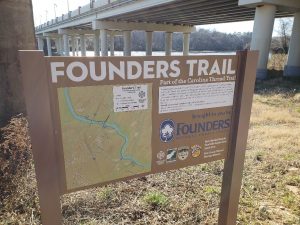 Hiker and Bike Friendly
The trail is a 2.3 mile, 4 ft. wide natural surface trail that will connect to the Masons Bend Trail and extend under Interstate 77 and Highway 21. The trail comes around the side of Highway 21 and follows down the sidewalk of the northbound lane, over the Catawba river, and joins the Piedmont Medical Center/Riverwalk Trail.
The Catawba river can be observed along the trail as well as an ancient Catawba Native American fishing weir, where Native Americans fashioned a rock channel that would funnel fish into their waiting nets, that is visible from an overlook.
We were able to make this project happen through two grants: 1) The Carolina Thread Trail Implementation Grant, a $100,000 contribution from Founders Federal Credit Union and 2) South Carolina Parks, Recreation, and Tourism, a publicly funded $100,000 grant.
We would also like to thank our landowners who permitted the trail construction: the York County Cultural and Heritage Commission and Jim Scott and family.
(Click for Map)
(10/29/2018-Present) The damages caused by Hurricane Florence and Michael have worsened the conditions of the trail. Sections of the trail have fallen into Sugar Creek making the trail dangerous for visitors. We ask that no one use the trail until further notice. We are working with the Carolina Thread Trail to find a solution to the severe erosion issues on the trail. Please contact the NFLT office with any questions or comments.
If you wish to help reopen the trail, please donate to NFLT to help cover the costs. All donations are tax deductible.
Please do not go past the trail end. Kennel road is private property.
Located along Sugar Creek in Fort Mill, the Springfield Trail spans from the Regent Parkway bridge south towards
It is the first of the proposed 30-mile long hiking and biking trail running along the banks of Sugar Creek and the Catawba River.
The Springfield Trail is a little over two miles long. Access and parking are on its northern end off AO Jones Boulevard near Nation Ford High School. There is currently no parking available on the southern end. Residents of Springfield will have access to the trail from each of the phases within the community.


Preserving Greenspace
for all Generations